Calling all foodies! Burlington is home to multiple amazing restaurants, many of which are located in the heart of downtown. Head over to your favourite bistro and pick up some takeout for dinner or make a reservation to have lunch on the patio. From Italian food to Thai options to healthy juice, there's something for everyone to enjoy! Here are our favourite places to eat in Burlington:
PinToh Cuisine
Located in downtown Burlington, PinToh Cuisine creates unique dishes by combining authentic Thai ingredients with current food trends. They have a stunning, contemporary atmosphere for everyone to enjoy their delicious meals.
Pizzaiolo Gourmet Pizza
With multiple locations and a wide variety of pizzas, Pizzaiolo is the perfect choice for a family outing! Pack up the car with a blanket, grab a couple of pizzas for the family and head to the park for a picnic. Pizzaiolo offers gourmet meat, veggie, vegan and gluten free pizzas, with the option to design your own. Check out the Burlington location today!
Boon Burger Café
If you're looking for some vegan options, Boon Burger Café is the place to be! With phenomenal food quality, consistency and taste, they specialize in vegan burgers. Their food is not only healthy, but also great for the environment!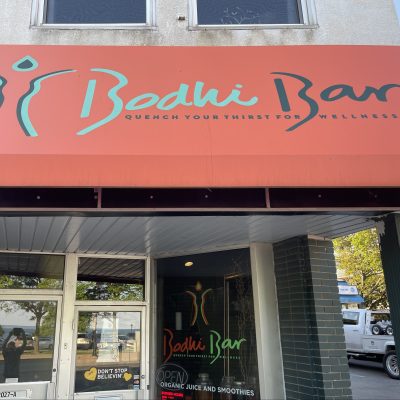 Bodhi Bar 
In the mood for a healthy treat? Head to Bodhi Bar for cold-pressed juice, smoothies, juice cleanses and health shots! All their fruits and vegetables are organic and juiced in a cold-press juicer. Bodhi Bar juices are also available to purchase online.
Lettuce Love Café
Here's another plant-based option! Lettuce Love Café offers delicious vegan, gluten free meals, smoothies and treats. All their ingredients are sustainably sourced, fair trade, and non-GMO. Every meal is prepared fresh, so grab your favorite bowl for family game night!
The North Coal
This restaurant is a hybrid lifestyle brand, half restaurant and half general store, they want to inspire you to live life to the fullest. A full kitchen and bar, The North Coal offers great food, drink and apparel, so you can continue 'Canadian Living'. Grab a seat on their patio starting on June 15th!
The Block Co.
Looking for an easy date night? Order a beautiful charcuterie board from The Block Co. with unique meats and cheeses. They work with your budget and food preferences to create a custom charcuterie board for you to enjoy at home and are available for pickup.
Kelly's Bake Shoppe
Everyone has heard of this adorable bake shop! Everything at Kelly's Bake Shoppe is made from scratch daily, with high quality plant-based, gluten-free and peanut free ingredients. Take a weekend stroll to their delightful storefront and indulge in their tasty desserts.
La Crème de la Crème Creamery
With everything from handcrafted artisan chocolate to ice cream to fondue, La Crème de la Crème Creamery is perfect for an after-dinner treat! Pop by their store and indulge in their delicious desserts, and then head to the water and enjoy.
Sunshine Doughnuts
This iconic spot is a Burlington staple! Visit Sunshine Doughtnuts and treat yourself to some of their delicious, handcrafted doughnuts and tasty coffee.
What's your go-to restaurant in Burlington?