As you stroll down Maple Avenue on your way to downtown Burlington, you'd be hard-pressed not to notice Strata, one of the Molinaro Group's crowning achievements, and the subject of this month's Molinaro Project Showcase.
Featuring an indoor rooftop pool with breathtaking views of Lake Ontario, a chic shared bar space on the 24th floor, and a 5,600 ft square Meditation Garden, Strata is the epitome of indulgence and provides luxury living for the hip, fit, and green. One of Burlington's first condominiums to apply for LEED certification, Strata features a state-of-the-art geothermal heating and cooling system, a green roof, and water efficient features that reduce water consumption by as much as 40%.
Strata boasts an enviable location in the downtown Burlington core, and provides it's tenants with magnificent views of Lake Ontario and only a short walk to Spencer Smith Park and many area restaurants and local hotspots. With Burlington's most popular bars and pubs, a wide selection of gourmet restaurants, and upscale boutique shopping mere steps away, this neighbourhood has everything to suit your lifestyle.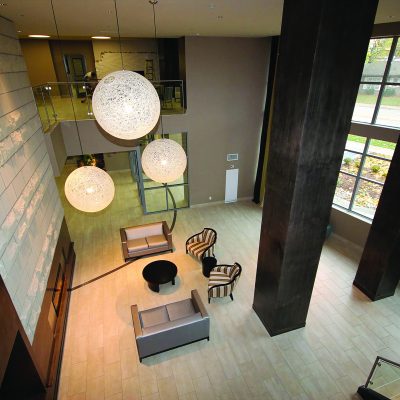 From the moment the fireplace welcomes you into the sleek, contemporary two-story lobby, you'll know you've arrived somewhere special. The units are bright and airy, and are filled with striking modern finishes and fixtures. Indulge your social side in a home you're proud to show off, or head up to the rooftop bar lounge. The condo also offers its residents other great amenities such as a Gym / Exercise Room, Pool, Concierge and a Party Room. With luxury suites designed to suit every lifestyle, Strata is modern condo living that aims to exceed your expectations. With suites ranging from one bedroom to spacious three bedroom penthouse units, it's no wonder Strata has become the most in-demand residences in downtown Burlington.
With a youthful and energetic vision for the future, Molinaro Group continues to set the standard of condominium quality and innovation here in Canada's best mid-sized city.