Happy New Year! As we begin 2021, we're all looking forward to a fresh start. After the holidays, there's a tendency to organize, purge, and declutter. We suggest starting with your closet! Once you tackle your wardrobe, the rest of your condo will be easy. Here are 5 tips to help you declutter your closet in a day: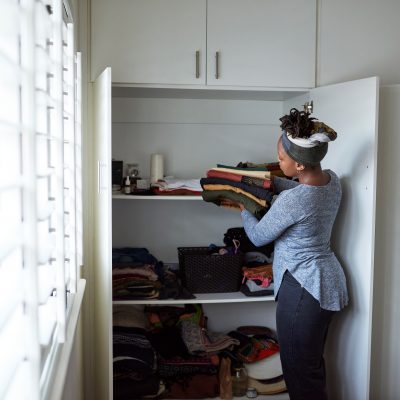 Empty Your Closet
Take out every single piece from your closet and lay it out. This will allow you to see everything you own, and if there are too many of one particular item, for example blazers. Analyze each piece of clothing separately before placing it back in your wardrobe and ask yourself some fundamental questions:
Does it still fit?
How often do you find yourself reaching for this piece?
When was the last time you wore this item?
Can you style this clothing item multiple ways?
Do you love wearing this item, or are you keeping it for sentimental reasons?
If you find yourself answering 'no' to a lot of these questions, it may be time to part ways with this piece of clothing. You can donate it to charity, sell it at a consignment shop, or see if a friend or family member may be interested in giving it a new home. Using this system with each piece in your wardrobe will guarantee you only keep items you truly enjoy styling.
If removing every item in your wardrobe seems overwhelming, start slowly. Organize by each category, such as shoes, denim, work attire, etc. and work your way through your entire closet using the same system.
Create Categories
When removing pieces from your closet, and going through them one by one, it's important to create categories. Of course, start with the 'keep' category. These are the items you love and want to keep in your wardrobe, so hang them up right away! Next is your donation pile. These are the pieces you don't wear anymore, or they no longer fit correctly. They will be donated to charity or passed along to family or a friend. Lastly, there should be an alterations pile. If you meant to hem a pair of pants or take in a dress ages ago, and never got around to it, here's your chance! Oftentimes, people intend to alter a piece of clothing, but end up forgetting to do so. This leads to unworn items taking up in your closet. After decluttering your closet, make sure you visit the alterations shop!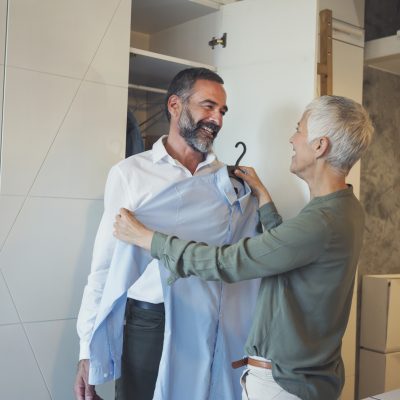 Create A Capsule Wardrobe
A capsule wardrobe is a select amount of seasonal clothing that you enjoy wearing and looks flattering on you. Creating a capsule wardrobe of pieces you love to style will ensure a great outfit every day of the week! After decluttering your wardrobe, take note of the pieces you keep and the ones you wear most often, and start building your capsule wardrobe from there.  A capsule wardrobe will also help keep track of all the items you own, ensuring your closet never becomes overloaded with clothes again!
Maximize Storage Space
Closet space is notoriously limited, so you'll want to capitalize on every inch of space. Pull out anything that doesn't belong in your closet and find another home for it. For example, if you're storing your wedding dress, suitcases or golf clubs in your closet, find another area for them in your condo. Other ways to create more storage is to put in shelving, or use baskets and bins to store items that won't fit in traditional dresser drawers. Get creative with storage and maximize your closet space!
Commit to A Monthly Declutter
Incorporate decluttering your closet into your routine. If you make it a habit, cleaning your wardrobe won't be so overwhelming. Try to declutter your closet once a month. Create a small donation bin in your closet to store items you want to donate, and empty it every so often.
Are you excited to declutter your closet this new year?