This time of year is one of the busiest, with holiday get-togethers, winter activities, and all the shopping! While it's easy to order gifts online, there's something special about walking into a local shop, looking around at the handmade items, and selecting a thoughtful present for your loved one. We've rounded up the best local stores in Burlington so you can cross those last items off your shopping list!

Centro Garden
Centro Garden came to life because of Jason Pepetone's love for gardening and his expertise in the garden center business. Those who are passionate about design, art, style, and gardening will enjoy shopping at this local store. From adorable Christmas ornaments to home décor to locally made cleaning supplies, there are so many wonderful items to choose from! Visitors can wander through the indoor and outdoor areas of the store, admiring the garden shop and beautiful Christmas decorations while checking off every person on their holiday shopping list.
The Artisanville
Much like its name, The Artisanville is a small shop full of unique, handcrafted products, and located in both Burlington Centre and Lime Ridge Mall. Canadian designers and artisans create original home décor pieces, clothing, fun jewellery, paper goods and more! With a vast assortment of handmade pieces, you'll find memorable gifts for your parents, siblings, friends, and little ones!
ODDSPOT
Located in Downton Burlington, ODDSPOT is a great store to browse vintage items and old records. There are also handcrafted pieces, décor objects, clothing, and other unique items. Find the perfect gift for the vintage lover in your life!

The Little Pop-Up Shoppe
This adorable pop-up shop, located in Village Square, is Burlington's only monthly rotating shop! Every 30 days, they feature new products from Canadian artists, designers, and entrepreneurs. With adorable Christmas décor pieces, winter accessories, and handcrafted kitchen items, there's something for everyone!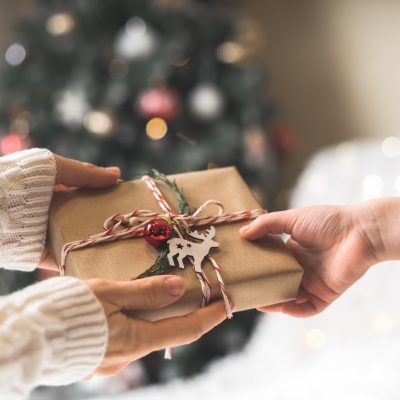 The Block Co
If you're looking for a truly unique gift, look no further! Give a beautiful charcuterie board, full of delicious meats, cheeses, and fruits. The Block Co. will work with your food preferences and budget to create a custom charcuterie board for you to give your loved ones. Bring one of their gorgeous charcuterie boards over to your next holiday party or set up a grazing table at your own gathering. This is a treat everyone can enjoy!
Pure Boutique
With the latest trends in home décor, Pure Boutique is an ideal shop to find gifts for the homebody in your life. They carry stunning candles, skincare items, and beauty accessories, which all make amazing stocking stuffers. With lovely décor items, beautiful stationary, and endless bath and body products, you'll find the perfect gift in no time!

The Handmade House
With a wonderful selection of sustainable products, homemade Christmas décor pieces, and one-of-a kind clothing items, The Handmade House is a one stop shop for all gifting this season. All these delightful pieces are handmade with care, and purchases support local businesses and keep the city of Burlington thriving! Find amazing gifts for your closest friends and family at The Handmade House!
Have you started your holiday shopping yet?